Australia post : Christmas Island Year of the Rat 2020 zodiac sheetlet
​​​​​​​
For over two centuries, Peking Opera (京剧 jīng jù) has been one of the fundamental expressions of Chinese culture. One of the activities that is enjoyed by many people during the Lunar New Year is to watch Peking Opera performances. It is a form of storytelling through melodious music of singing or rhythmic speaking, reciting, acting, and martial arts. The costumes are flamboyant, elegant and beautiful in high aesthetic value. The facial makeup is exaggerated using symbols, colours and patterns to depict characters' personalities and social identities. 
With 2020 Lunar New Year, Year of the Rat Stamp Issue, I introduced three unique characters from Peking Opera: Sheng (生 shēng) the male roles, Chou (丑 chǒu) the comedy roles and Dan (旦 dàn) the female roles. Each of them is designed with distinct symbolism in colour and decoration for the year of rat in 2020, the subjects are drawn from traditional Chinese language of symbols. The animals are personified in sophisticated human forms and dressed in its extravagant costumes and headpieces, ready to perform on the stage along with the other twelve zodiac animals on stand by. Having human-like features allows the audience to easily recognise them with an emotional bond. The sheetlet is stylistically harmonic, with whimsical visual images that relate to our current generation here in Australia and at the same time preserving the traditional elements of Lunar New Year.
Chinese Jade (yù) is presented throughout the design. In the Chinese culture, Jade symbolises goodness, preciousness and beauty. It reflects the status and a representative of purity and intelligence. The colour of Jade depicts loyalty while its imperfections reflect sincerity; since green is also the lucky colour for the year of rat in 2020. The year 2020 marks the beginning of a new decade and the start of a new Chinese Zodiac cycle; the new style will give stamp collectors a refreshing direction to acquire the new 'Jade'.
$1.10 - Year of the Rat, Sheng
Sheng (生 shēng) : the male roles
Sheng (生 shēng) is represented by China blue with complementary colours of Jade green, Chinese vibrant red and gold.
It wears a traditional hat with two wings that extend out to each side of the ears indicating his identity, and with the symbol of prosperity (禄 lù) illustrated across his hat and robe.
$3.30 - Year of the Rat, Chou
Chou (丑 chǒu) : the comedic roles
​​​​​​​
Chou (丑 chǒu) is depicted in Jade green holding a gold ingot or sycee (元宝 yuán bǎo) to express wealth and good fortune.
The symbol of ancient Chinese coins is also illustrated throughout the headpiece and the robe.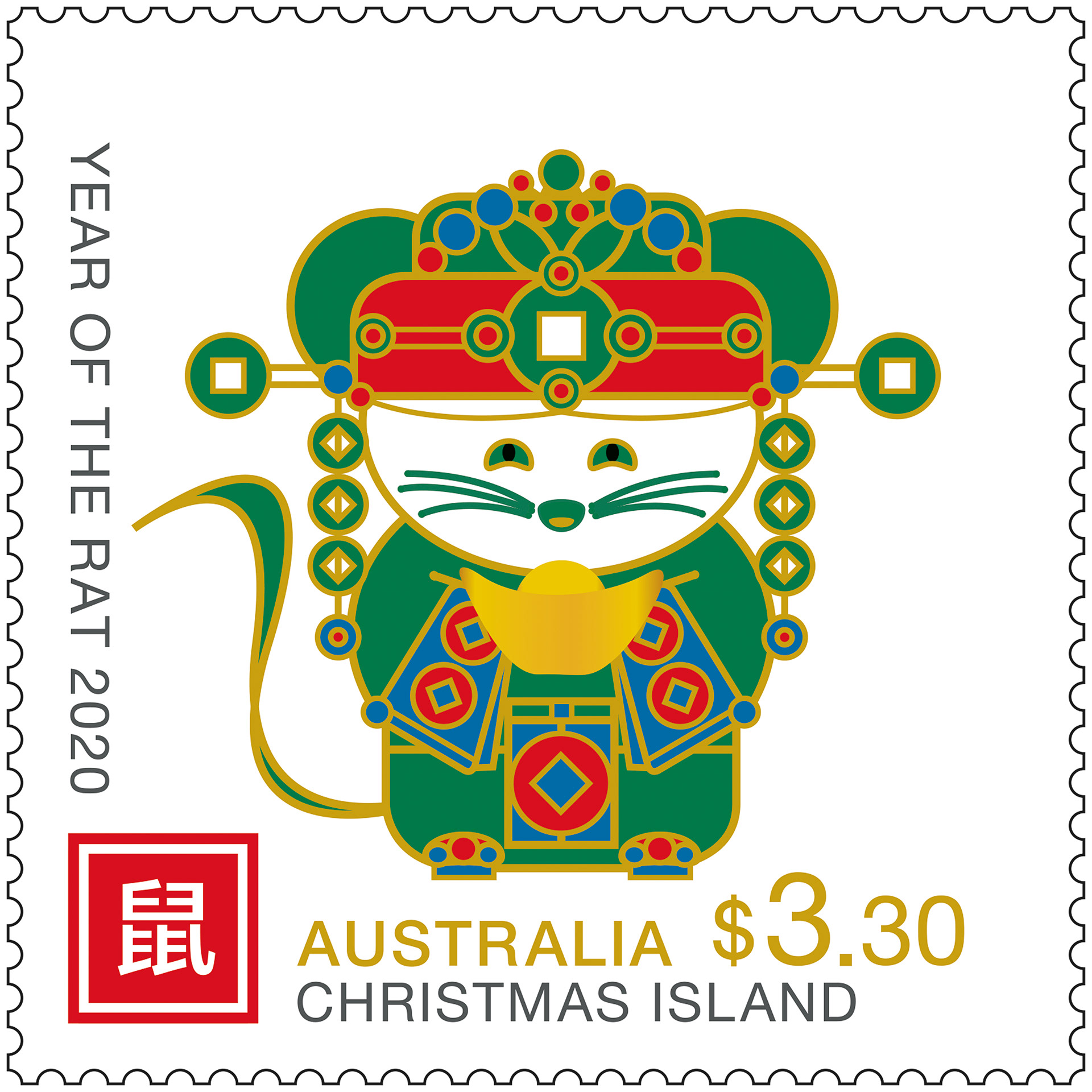 $2.50 - Year of the Rat, Dan




Dan

(旦 dàn)

: the f

emale ro

les ​​​​​​​
Dan (旦 dàn) wears an elaborate Jeweled ornament headpiece along with lily flower patterns designed on her fan and robe.